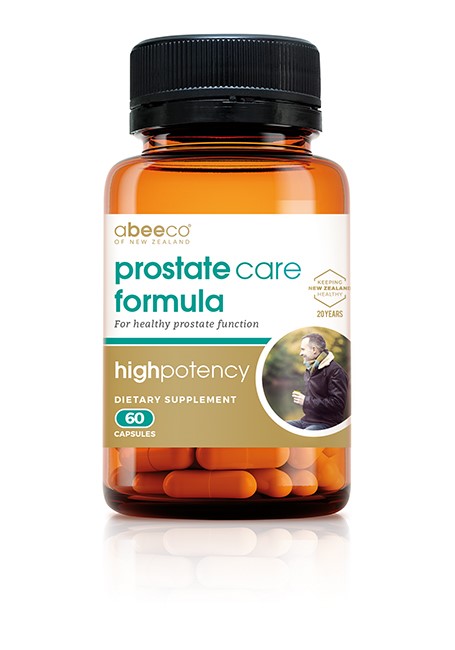 Natural Health
Abeeco Prostate Care Formula 60caps
Sale $54.50 $47.96
Or 4 payments of $11.99

Or 6 payments of $7.99

What's this?
High Potency Prostate Formula with Saw Palmetto, Lycopene & Nettle Root
​Supports healthy urinary flow
Promotes normal prostate function
Clinical Research Shows -Saw palmetto, Lycopene, and Nettle root are effective for decreasing prostate infections.
"I was waking up frequently at night to urinate. Tests proved that I had the first stages of prostate problems. After taking the Abeeco High Potency Prostate Formula for some time, he has found that this PSI count has been reduced considerably. I am pleased to be taking a formula this is natural and that works". Andrew McDonald 65 years old, Auckland.
Are you a male between 40 - 85 years of age?

Statistics show that 55% of all men over the age of 40, and 95% of men over the age of 70 will suffer with some problems relating to their prostate gland. The most common symptoms include waking to urinate at night, a reduction or difficulty in passing urine, frequent urination, a painful or burning sensation while urinating, dribbling after urination and a feel of pressure in the bladder.

You should take this product if you...
just want to continue to keep your prostate gland healthy
want to prevent prostate problems
have a family history of prostate problems
have pain or a burning sensation while urinating
urinate frequently
have a reduction or difficulty in the flow of urine
wake at night to urinate
have a prostate problem
Abeeco High Potency Prostate Formula is recommended for long term use to support prostate health. 
Active Ingredients
Dosage
Pygeum Extract - 300mg
Saw Palmetto Extract - 750mg
Beta-sitosterol - 45mg
Zinc Monomethionine - 5mg
Bromelain 2000 - 15mg
Papain - 15mg
Quercitin - 30mg
Vitamin E - 15mg
Manganse Chelate - 5mg
Nettle Extract Powder - 150mg
Selenomethionine Trituration - 0.05mg
Vitamin D3 Cholecalciferol - 0.005mg
lycopene - 20mg
Pumpkin Seed Extract Powder - 300mg
Avicel
 
1-2 tablets twice daily.  Acute cases may double the dosage.