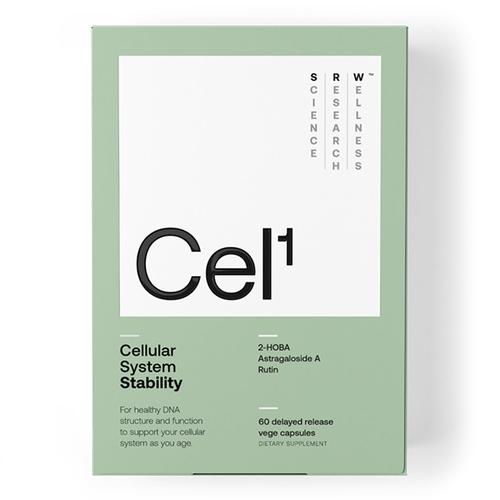 Anti-Aging
SRW Laboratories CEL1 Cellular System Stability
Sale $192.00 $182.40
Or 4 payments of $45.60

Or 6 payments of $30.40

What's this?
Cel1 Stability supports your overall DNA health, helping you age well by supporting youthful cell function.
Your DNA is your body's operating code, telling it how to create its cells and how they should act, so it's important to support our cells for optimal health. Your telomere health is important as you age. The accumulation of age-related changes in the body may be detrimental to your health over time.
This formulation is designed to support 3 of 9 naturally occurring biochemical and biological mechanisms as you age known as the hallmarks of aging:
→ Supports healthy DNA function
→ Supports normal gene function
→ Supports healthy telomere function
Taken in combination, Cel1, Cel2 and Cel3 provide optimal natural protection to support your overall cellular system and healthy aging.
Active Ingredients
Dosage
Warning
Serving Size: 2 Capsules
Servings Per Container: 30
2-HOBA (hobamineTM) 100mg
Cel1 proprietary blend 671mg
Astragalus membranaceus extract (root) (20% Astragaloside A)
Sophorae japonica extract (flower) (95% Rutin)
Curcuma longa extract (rhizome) (95% curcuminoids)
Vitamin C (as ascorbic acid) 60mg
Levomefolic acid (as L-5-MTHF-Ca) 300mcg
Vitamin B12 (as cyanocobalamin) 40mcg
Zinc (as zinc gluconate) 15mg
Selenium (as selenomethionine) 150mcg
Other ingredients: Magnesium stearate, Silicon dioxide, Delayed release HPMC vege capsules (DRcaps®).
Nutritional uses of 2-HOBA are licensed to SRW Laboratories Limited under Patent Number 7,705,054/8,822,542
Take 2 capsules daily, or as directed by your healthcare practitioner.
For adults only. Keep out of reach of children. Stop using and see your healthcare professional if an adverse reaction occurs. Consult your practitioner if pregnant or breastfeeding.
GENERAL SAFETY INFORMATION
Always read the label. Use only as directed.
Nutritional supplements may only be of assistance if the dietary intake is inadequate.
Supplements should not be used to replace a healthy balanced diet and adequate physical exercise.
Keep all medications and supplements out of reach of children.
If symptoms persist see your healthcare professional.